SAME-OL-SAME-OL. Pelosi was reelected as leader, serious consideration for Keith Ellison DNC Chair (a racist/segregationist and cult member – see also: "Louis Farrakhan's First Congressman" and "The Ellison Elision."), and the "head-bobbing – womansplaining" Pocahontas speaking down to all Americans (she is the 2020 choice so far of the Bernie people). We will win more ground in 2020 at this rate… IF, "the Donald" doesn't effe it up.
— Must Listen to the Previous Panel Discussion —
A trifecta is when a Party controls both state houses AND the governorship. Here is the post-2016 map to show states that have this: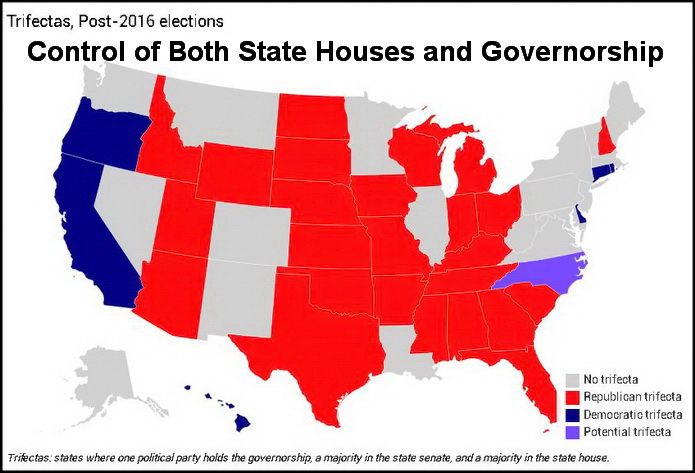 I think this is a good indicator that the general public is rejecting the PC, gender-politics and tendency to label every thing as sexist, intolerant, xenophobic, homophobic, Islamophobic, racist, bigoted (S.I.X.H.I.R.B.). Hillary even saying all white people are essentially racist, supporting anti-Semitic groups like Black Lives Matter, allowing men into women's bathrooms with parents daughters, etc.
And so each election season something is happening across our nation:
Pre-2016 Trifecta

Pre-2014 

Trifecta

Pre-2012 Trifecta

Pre-2010 Trifecta
I love these maps. It was something I was made aware of (trifectas) by Michael Medved and his statistician historical mind back in 2010. But I haven't really kept up on it… till this Victor Davis Hanson article, from which I include an extended excerpt:
…In contrast, the Democratic Party is torn and rent. Barack Obama entered office in 2009 with both houses of Congress, two likely Supreme Court picks, and the good will of the nation. By 2010 he had lost the House; by 2012, the Senate. And by 2016, Obama had ensured that his would-be successor could not win by running on his platform.
A failed health care law, non-existent economic growth, serial zero interest rates, near record labor non-participation rates, $20 trillion in national debt, a Middle East in ruins, failed reset and redlines, and the Iran deal were albatrosses around Democratic Party's neck. Obama divided the country with the apology tour, the Cairo Speech, the beer summit, the rhetoric of disparagement ("you didn't build that," "punish our enemies," etc.), the encouragement of the Black Lives Matter movement, and a series of anti-Constitutional executive orders.
In other words, even as Obama left the Democrats with ideological and political detritus, he also had established an electoral calculus built on his own transformative identity that neither had coattails nor was transferrable to other candidates. Indeed, his hard-left positions on redistribution, social issues, sanctuary cities, amnesty, foreign policy, and spending would likely doom candidates other than himself who embraced them.
The Bernie Sanders candidacy was the natural response, on the left, to Obama's ideological presidency. But the cranky socialist septuagenarian mesmerized primary voters on platitudes that would have proven disastrous in a general election—before meekly whining about Clinton sabotage and then endorsing the ticket. What then has the Democratic Party become other than a hard left and elite progressive force, which without Obama's personal appeal to bloc-voting minorities, resonates with only about 40 percent of the country?
The Democratic Party is now neither a centrist nor a coalition party. Instead, it finds itself at a dead-end: had Hillary Clinton emulated her husband's pragmatic politics of the 1990s, she would have never won the nomination—even though she would have had a far better chance of winning the general election.
Wikileaks reminded us that the party is run by rich, snobbish, and often ethically bankrupt grandees. In John Podesta's world, it's normal and acceptable for Democratic apparatchiks to talk about their stock portfolios and name-drop the Hamptons, while making cruel asides about "needy" Latinos, medieval Catholics, and African-Americans with silly names—who are nonetheless expected to keep them in power. Such paradoxes are not sustainable. Nor is the liberal nexus of colluding journalists, compromised lobbyists, narcissistic Silicon Valley entrepreneurs, family dynasties, and Clintonian get-rich ethics.
The old blue-collar middle class was bewildered by the leftwing social agenda in which gay marriage, women in combat units, and transgendered restrooms went from possible to mandatory party positions in an eye blink. In a party in which "white privilege" was pro forma disparagement, those who were both white and without it grew furious that the elites with such privilege massaged the allegation to provide cover for their own entitlement.
In the aftermath of defeat, where goes the Democratic Party?
It is now a municipal party. It has no real power over the federal government or state houses….
Here is the map of Republican Governors: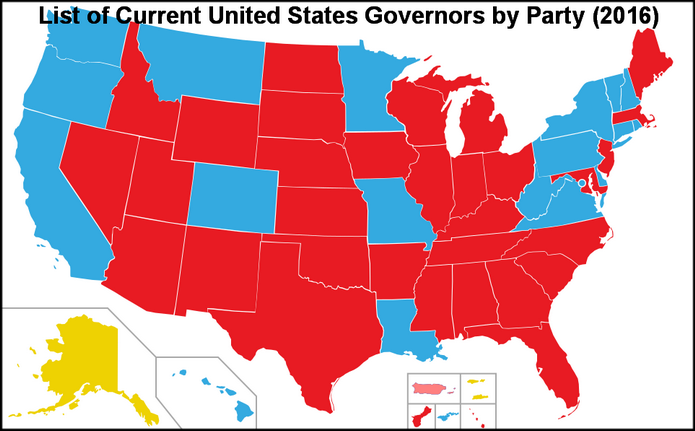 As the liberal agenda becomes more brash and evident, I am seeing a slow change in demographics. Which is great in many respects.