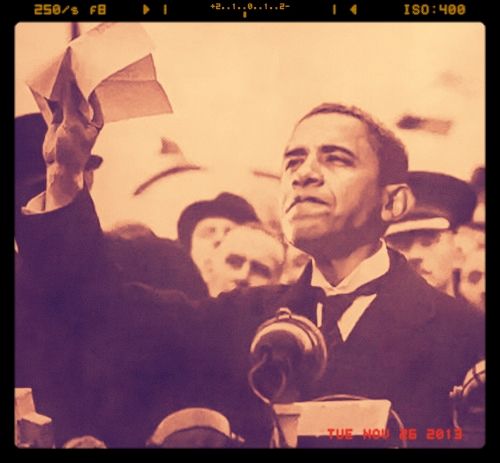 Below is an interview of Michael Rubin by Hugh Hewitt. Some frank discussion about the Iran deal occurs by a historian on such negotiations. I believe we have our own Chamberlain moment… brought to you by the kind people on the American Left.
…It appears Iran has not made any deal that would curtail its nuclear ambition. As described, the framework upon which U.S. and Iranian negotiators appear to agree fails to resolve those issues of most concern to regional states. Obama has unilaterally waived Security Council resolutions demanding a complete enrichment cessation. There may be some enrichment suspension at key sites but, as Rouhani bragged in 2009, he used an early suspension to install new and better centrifuges. And while Iran might convert some more highly enriched uranium to less usable fuel rods, it has backtracked its own earlier proposals to ship fissile material abroad.
Of even more strategic concern, the deal does not address Arak. On Thursday, a German court sentenced four businessmen who sold components to Iran for that plutonium-producing plant. When Arak becomes operational within a year, it can produce enough plutonium for two bombs per year. Nor has Iran made any concession on Parchin, where Iran conducted weapons research. In short, Kerry can arrive back from Geneva and declare triumphantly, "I have in my hand a paper signed by Mohammad Javad Zarif," but the agreement does not stop Iran from assembling the material or know-how needed to make a bomb. There is no truth and reconciliation component to the deal: Iran needs not come clean on its previous activities. If the regime had truly has a change of heart, such transparency should not be an issue.
Diplomats may celebrate a deal, but a bad deal can be worse than no deal. Sometimes, the hangover is not worth the celebration.
Besides Debka calling these secret meetings to the public's attention back in 2012, they also note some glaring loop-holes in the deal:
Debkafile's intelligence and military sources list seven of the most glaring loopholes in the first-step accord:
1. Parchin: This long-suspected facility remains out of UN oversight. President Obama and Secretary of State John Kerry boasted after the signing that daily IAEA inspections will take place at Fordo and Natanz. However, cameras are already fixed at both those facilities without an agreement, whereas Tehran's consistent denial of IAEA access to Parchin is not addressed.

2. Secret nuclear locations: Under the heading "Possible Military Dimensions," the last IAEA report noted: "Since 2002, the Agency has become increasingly concerned about the possible existence in Iran of undisclosed nuclear related organizations, including activities related to the development of a payload for a missile."

The watchdog has received information indicating activities "relevant to the development of a nuclear explosive device." This was further corroborated by new information obtained since November 2011.

Tehran's non-cooperation for investigating these findings is not mentioned in the Geneva interim accord, nor was it addressed in the negotiations.

3. Dirty bombs: Iran doesn't need a full-scale nuclear bomb or missile warhead for attacking Israel. For decades, Tehran has been working on perfecting hundreds of dirty bombs as part of its nuclear program, by adding plutonium or enriched uranium to conventional bombs. These weapons are easy to make and easy to use. In the hands of Hizballah or other Shiite terrorist organizations in Syria or Iraq, for instance, they could be used to strike Israel without leaving a trail to Tehran.

This peril too was ignored by the six powers in Geneva.

4. Rollback. While President Obama has presented the deal as a first step toward freezing or even rolling back "key aspects" of Iran's nuclear program. The fact remains that, so long as Iran is permitted to enrich uranium, even though this is restricted to a low 5 percent grade, it is free to produce as much fissile material as it wants, whenever it wants. This seems more like roll forward than roll back.

5. Enrichment. Obama and Kerry said the new deal does not recognize Iran's right to enrich uranium. They were contradicted by the Iranian president and senior negotiator as well as Russian Foreign Minister Sergey Lavrov. So what is the truth? If Iran won recognition for this right, it blows the bottom out of the Non-Proliferating Treaty because, in no time, all the signatories may start enriching uranium with permission from the big powers. Neither is there any point in making Iran join the NPT's Additional Protocol for snap inspections.

6. Centrifuges. Iran has undertaken not to add new centrifuges to its enrichment facilities, according to President Obama, but there is nothing to stop it from keeping up their production. In the six-month interregnum for negotiating a comprehensive nuclear deal, Tehran wins time to turn out enough centrifuges to substantially expand its production of enriched uranium.

7. A leap to breakout: Far from being static or in freeze, as the Americans claim, Iran is free to step up centrifuge production and boost its stock of 3.5 percent enriched uranium, thereby accumulating enough material to enhance its capacity for producing enough weapons-grade uranium to break through to a nuclear bomb rapidly enough to defy detection by the IAEA or Western intelligence until it is too late.
The first loophole appeared hours after the new accord was signed:
Iran's lead negotiator, Deputy Foreign Minister Seyed Abbas Araghchi, announced that his country's enrichment rights had been recognized in the negotiations, after which Iranian President Hassan Rouhani praised the supreme leader's guidelines for achieving world power recognition of Tehran's "nuclear rights."
However, Secretary of State John Kerry in his first appearance after the signing denied this concession had been made. He said: "The first step, let me be clear, does not say that Iran has a right to enrich uranium."
Russian Foreign Minister Sergey Lavrov lined up solidly behind the Iranian version of the accord, confirming world recognition had been extended for Iran's right to peaceful nuclear energy, including the right for enrichment.