See the virulent racism and Jew hatred in Mandela's party in a previous post
The Lonely Conservative has a good commentary that one should read in full on his site… here is a teaser:
I don't like to speak ill of the dead, especially when they still haven't even been buried. (I also don't like to speak ill of the Pope, although I've been tempted to at least speak ill of his ideology.) But I do think it's important to add some perspective to the legacy of Nelson Mandela that you aren't going to get from the media.

Those who escaped Cuba, and those who are still there, probably aren't shedding too many tears this morning over the passing of Nelson Mandela, who seemed to have no problem with the ruthless ways of the Castro regime. Fellow travelers and all.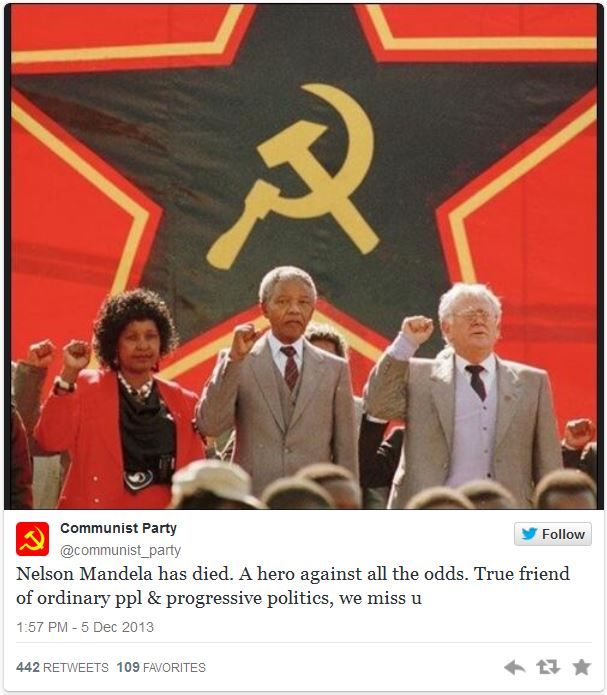 From JTF.ORG:
….Mandela also was always an enthusiastic supporter of Ugandan Muslim dictator Idi Amin, and Mandela met with his fellow terrorist Yasser Arafat in the 1970s to publicly deplore Israel's "barbaric" rescue of innocent Jews who were taken hostage by PLO-Fatah airplane hijackers in 1976 and then flown to Uganda's Entebbe Airport where Amin and Arafat planned to murder them.
To this day, Mandela strongly supports other "progressive" Third World dictators like Saddam Hussein of Iraq, Hafez el-Assad of Syria and Moammar Khadafi of Libya.
In South Africa itself, since Mandela and other savages seized power from the white minority, the country now has more than five times the homicide rate of Washington, DC, the murder capital of the United States….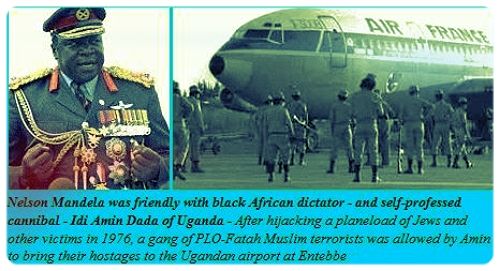 Mandela sings about killing whites!
Read more of a fair-and-balanced [conservative] approach to Mandela's legacy, also there is Part 2 of the below video there as well: