The above was the statement made by Kerry, below, Mark Levin quickly goes through the anti-Semitic background and how John Kerry is a symptom of the sickness.
(Gay Patriot: http://tinyurl.com/maq9sle)
How precious, this Democrat Congressman was speaking about "racism" on the Nation of Islam Radio. Guys who think that blacks are genetically superior to other races/ethnicity's… THEEE definition of racist:
Webster's says this:
♚ a. belief or doctrine that inherent differences among the various human races determine cultural or individual achievement, usually involving the idea that one's own race is superior and has the right to rule others.
So we see that Webster's main definition are based on a belief in a genetic superiority of one ethnicity (falsely called race) over another. A more in-depth definition comes from "Safire's Political Dictionary," and reads (in-part):
♚ racism Originally, an assumption that an individual's abilities and potential were determined by his biological race, and that some races were inherently superior to others; now, a political-diplomatic accusation of harboring or practicing such theories. "This word [racism]," wrote Harvard Professor J. Anton De Haas in November 1938, "has come into use the last six months, both in Europe and this country… Since so much has been said about conflicting isms, it is only natural that a form was chosen which suggested some kind of undesirable character." In fact, racism came into use two years earlier, in his 1936 book The Coming American Fascism, Lawrence Dennis wrote, "If … it be assumed that one of our values should be a type of racism which excludes certain races from citizenship, then the plan of execution should provide for the annihilation, deportation, or sterilization of the excluded races." Racism, a shortening of racialism, was at first directed against Jews. In the nineteenth century, anti-Semites who foresaw a secular age in which religion might not be such a popular rallying force against Jews put forward the idea of Jewishness being less a religion than a race. Adolf Hitler, with his "master race" ideology, turned theory into savage practice….
(Taken from my letter to my youngest son's high school: http://www.scribd.com/doc/115644033/A-Note-From-a-Concerned-Parent-Racism-Invoked-in-the-Classroom)
LET ME BE CLEAR, as you read the following. I do not think Obama is a Muslim. What I do think is that Obama joining a church that is so far off the historical Christian position of just about everything taints his views of other religions. In other words, his wrongly held views of salvation and Christianity affect greatly how he views — for instance, a cult breakaway from Islam. A worldview that says Jesus is just like the Buddha, Muhammad, Moses, etc, causes him [Obama] to be wildly inconsistent with the historical ethos of the Christian faith, and our [America's] founding principles.
From an older post:
---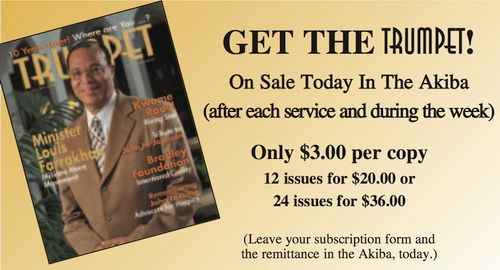 Some history: The NOI was created by Wallace D. Fard, also known as Wallace Fard Muhammad. Fard claimed to come from the Islamic city of Mecca. He began a mosque in Detroit in 1930. He taught that Christianity should be rejected since it was the "slave-master's religion." In 1934 Fard disappeared and was neither seen nor heard from again. Fard was succeeded by Elijah Muhammad (Elijah Poole). Elijah Poole was born in Sandersville, Ga. on October 7, 1898. He changed his name to Elijah Muhammad after joining the NOI. After Fard disappeared, Elijah took over the leadership of NOI…..
The Nation of Islam claims that God is a man. "God is a man and we just cannot make Him other than man" (Elijah Muhammad, Message to the Blackman in America, [Chicago: Muhammad's Temple No. 2], p. 6). The NOI teaches that Fard was Allah in physical form (Elijah Muhammad, The Fall of America, p. 236, as reprinted in "The Mother Plane," The Final Call 15, no. 25 [July 16, 1996]: 19). According to Elijah Muhammad, Fard told him, "My name is Mahdi; I am God" (Elijah Muhammad, Message to the Blackman, p. 17). The NOI continues to teach that Fard is Allah. The current NOI statement is published in every issue of their weekly newspaper, The Final Call, in an article titled "What the Muslims Believe." It states, "12. WE BELIEVE that Allah (God) appeared in the Person of Master W. Fard Muhammad, July, 1930; the long-awaited 'Messiah' of the Christians and the 'Mahdi' of the Muslims." The NOI denies that God is spirit. The NOI claims that Christians worship an "invisible spook somewhere in space"(Elijah Muhammad, Message to the Blackman, p. 5). According to Elijah Muhammad, "God is in person, and stop looking for a dead Jesus for help, but pray to Him whom Jesus prophesied would come after Him. He who is alive and not a spook" (Ibid., p. 3).
Obama's father was a Muslim and not an atheist;
Obama attended a Muslim school before he attended a catholic one;
Obama was excused once a week from the catholic school for Muslim religious studies;
Every Friday Obama prayed at a mosque;
Obama did not convert to Christianity — he converted to a twisted/aberrant Christian faith;
Obama's church gave a racist Muslim — who thinks the white man was created by a mad scientist on the Island of Cyprus 6,000 years ago, and who believes was taken up to a UFO where he was told by Jesus and the founder of the Nation of Islam, the "honorable" Elijah Muhammad, that he was the "little Messiah" — a "Lifetime Achievement Award."
Obama's picture was put on the church's magazine cover along with the "honorable" Elijah Muhammad, Louise Farrakhan;
Obama's church's magazine, "Trumpet," also had Farrakhan full shots on the magazine cover;
Obama's pastor was a "former" Muslim and black nationalist;
Obama's church also published Hamas' "terror manifesto" and compared Hamas' charter that calls for murder of Jews to Declaration of Independence.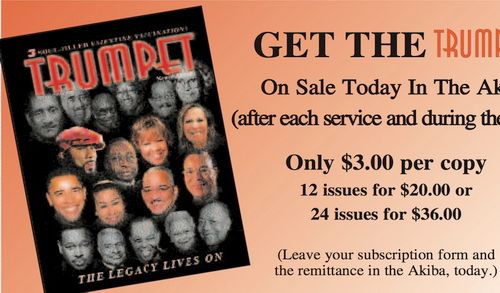 From another post:
---
Obama's pastor not only was a minister in The Nation of Islam, an anti-Semitic/racist group, but the church's book store sells sermons by Louise Farrakhan, who teaches that the white man was created on the Island of Cyprus by a mad scientist, Yakub. (Mr. Farrakhan also believes he was taken up on a UFO to meet God, and was told he was a little messiah, take note also that he was directly involved in the deaths of police officers as well.) Louise Farrakhan was featured twice on the church's magazine which reach 20,000[plus] homes in the Chicago area. Even placing on the cover with Louise Farrakhan a third time the founder of the Nation of Islam, Elijah Muhammad. Elijah Muhammad likewise taught that the white man was created by Yakub 6,600 years ago. Walter, Louise Farrakhan teaches that the Jews in Israel do not belong there, and that the true Jews are the black people. Louise Farrakhan was invited into Obama's church, to the pulpit and given a "lifetime achievement award." In fact, the New Black Panthers and members of the Nation of Islam often times sat in the pews for sermons by Rev. Wright, whom Obama called a mentor.